New 911 GT3 RS Sets a Lap Time of 6:56.4 Minutes Through the "Green Hell"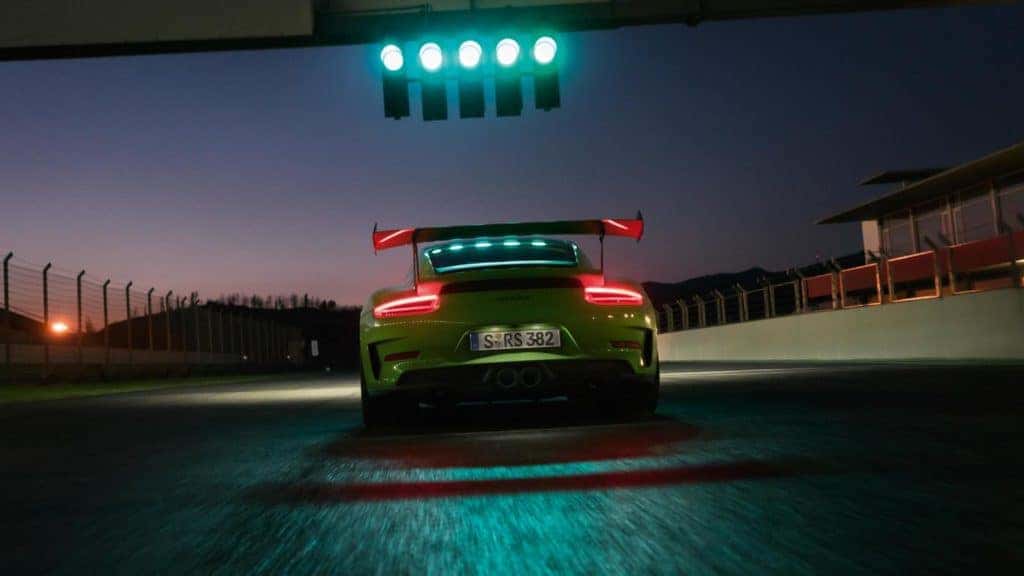 Atlanta,Georgia. Porsche Works race driver Kévin Estre recently set a lap time of 6:56.4 minutes with the 520 hp GT3 RS. Porsche development driver Lars Kern shared driving duties with Estre, and the Frenchman's lap time was 24 seconds faster than the best time achieved with the previous GT3 RS model. Following the 918 Spyder and the 911 GT2 RS, the new GT3 RS is the third production Porsche sports car with a notarized lap time of less than seven minutes on the "Green Hell." As is customary for record drives, the time was measured around the 20.6-kilometer lap.
"No other Porsche model gets as close to racing as the new GT3 RS. Many innovative ideas from top-level motorsport were transferred, for example, from the 911 GT3 R," said Frank Steffen Walliser, Vice President Motorsport and GT Cars. "This is what our philosophy for GT models is about: Highest technology must be fascinating but tangible. In this regard, there is no harder test for our ideas than the Nordschleife."
Andreas Preuninger, Director GT Model Line, added; "All four lap times of both drivers were below seven minutes and only tenths of a second apart. This proves not only the outstanding power of the GT3 RS, but also its extraordinary driveability. A perfectly composed overall system allows for highly dynamic performance even with a relatively modest engine power. For a driver, each of the car's thousands of parts have to feel like one – that's an unbeatable strength of the GT3 RS. And what especially delights me is how much fun Lars and Kévin had when driving that car."
Estre began the record lap at 11:40 a.m. in ideal conditions, with 14 degree Celsius ambient and 18 degree Celsius track temperatures. "This lap was a sensational experience for me," he said. "Through the fast corners and on the brakes in particular, the GT3 RS is unbelievably close to our racing GT3 R. This is also thanks to the new generation of tires for road going sports cars. I like the engine of the GT3 RS a lot. Up to 9,000 RPM from a six-cylinder engine just feels fantastic. The sound is a dream and the torque is massive."
Estre joined the team of Porsche Works drivers in 2016. He competes with the Porsche 911 RSR in the FIA World Endurance Championship (WEC) that includes the Le Mans 24 Hours. In the ADAC GT Masters he races the 911 GT3 R.
At the Nürburgring, the 911 GT3 RS was equipped with the latest generation of Michelin Pilot Sport tires. Optimized especially for track day use, the Michelin Pilot Sport Cup 2 R is fully compliant with relevant E.U. and U.S. standards. The tire (265/35 ZR 20 front and 325/30 ZR 21 rear) will be available to order soon at Porsche dealers and other select locations. Approved fitments include the 911 GT3 RS and the 911 GT2 RS.
The 911 GT3 RS with a motorsport-bred chassis and a 520 hp (383 kW) four-liter, naturally aspirated engine had its world premiere this year at the Geneva Motor Show in early March. The high-performance sports car accelerates from 0 to 60 mph in 3.0 seconds and reaches a top track speed of 193 mph.
The base MSRP in the U.S. is $187,500, not including available options or the $1,050 delivery, processing and handling fee. The Weissach Package is available as an $18,000 option. The Magnesium wheels can be ordered for an additional $13,000 in conjunction with the Weissach Package and will be available at a later date.
Public Relations Department
Product Communications
Frank Wiesmann
Phone: +1.770.290.3414
E-mail: [email protected]
David Burkhalter
Phone: +1.770.290.3511
E-mail: [email protected]
About Porsche Cars North America, Inc. | One Porsche Drive, Atlanta, GA 30354 USAEstablished in 1984, Porsche Cars North America, Inc. (PCNA) is the exclusive U.S. importer of Porsche 911, 718 Boxster and 718 Cayman; Macan and Cayenne; and Panamera. Headquartered in Atlanta, Georgia since 1998, PCNA is also home to the first Porsche Experience Center in North America featuring a module-based 1.6 mile driver development track, business center, and fine dining restaurant, 356.
The company operates a second Porsche Experience Center near Los Angeles. That 53-acre complex features a driver development track with eight educational modules totaling 4.1 miles, a business center, and Restaurant 917. PCNA employs over 300 people who provide parts, service, marketing, and training for 189 dealers. They, in turn, work to provide Porsche customers with a best-in-class experience that is in keeping with the Porsche brand's 70-year history of leadership in the advancement of vehicle performance, safety, and efficiency. PCNA is an indirect wholly-owned subsidiary of Porsche AG, which is headquartered in Stuttgart, Germany.
At the core of this success is Porsche's proud racing heritage that boasts some 30,000-plus motorsport wins to date.
Follow us: twitter.com/porsche | facebook.com/porsche
For Porsche apps: https://www.porsche.com/usa/apps-and-entertainment/apps/
Photos and video footage are available to accredited journalists on the Porsche Press Database at http://press.porsche.com/